6155M
Tractor
Loader ready ex factory with new electronic joystick for the premium R-Series front loaders
Integrated AutoTrac and ISOBUS
TLS front axle suspension, mechanical cab suspension
Full Frame Concept, giving you greater driving comfort, higher load-bearing capacity, less stress on engine and transmission and simple fitting of front loader and front hitch
Features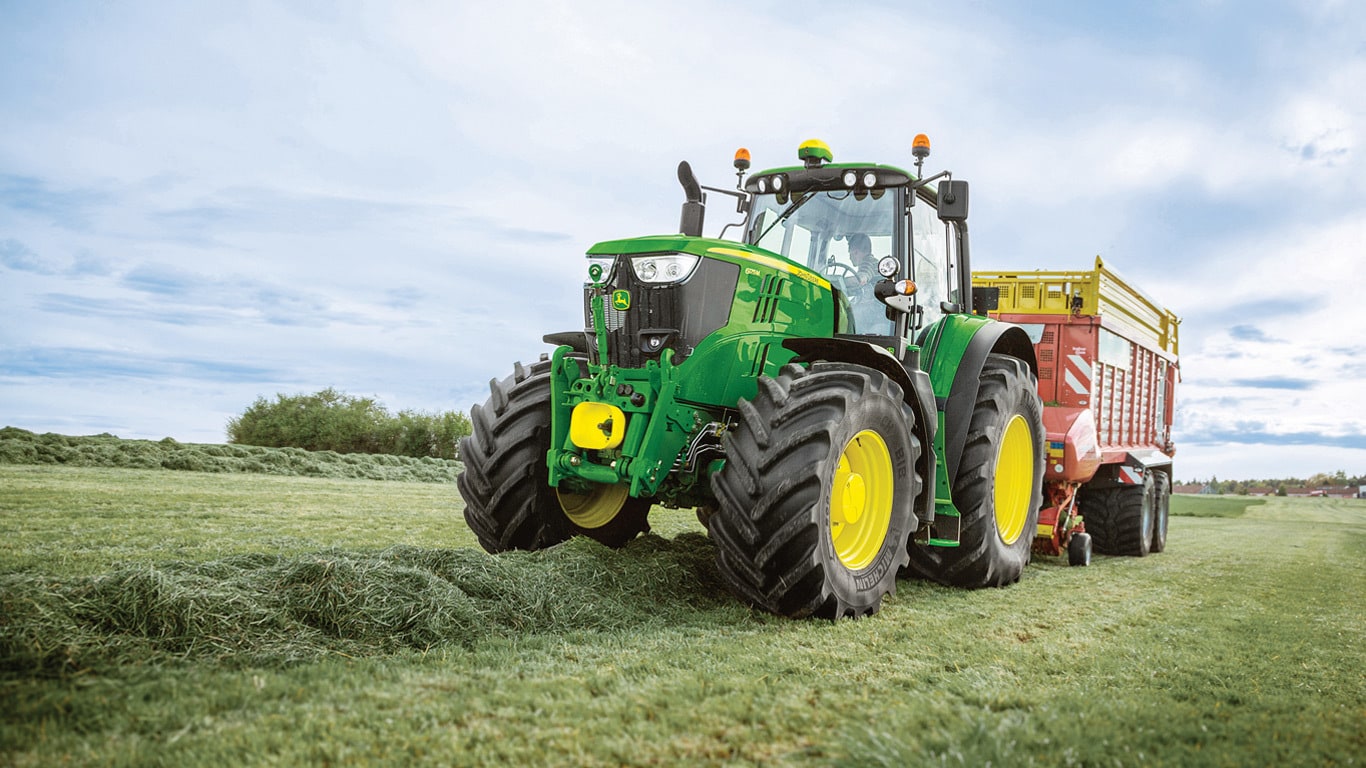 Assured reliability. Minimal maintenance. That's John Deere quality
All John Deere agricultural machinery is built to the highest possible standards. Our 6M Series is a prime example of this philosophy, which is why all major components – engines, transmissions and full frame chassis – are designed, engineered, manufactured and tested by John Deere. And they are all designed to work perfectly together.
The 6M Series Tractors offer an optional closed-center PFC hydraulic system with 114 L/min (30.1 gpm) of flow, allowing 200 bar (2900 psi) of variable working pressure. This hydraulic system is base equipment on 6155M to 6195M Tractors.

The hydraulic system is load sensing, which means a valve on the pump immediately initiates pump flow when required. When flow is no longer required, the pump returns to low-pressure, no-flow standby mode.

Benefits:
Reduced load on engine
Improved fuel efficiency
Enhanced oil cooling
Reduced internal leakage
Reduced hydraulic noise levels
Less strain on hoses and seals
Contributes to overall efficiency concept of the tractor
Fast system response times
Minimum energy losses, as pump returns to no output state when hydraulic flow is not needed
Pressure for the entire system is established by the function requiring the highest pressure. As load decreases, so does the hydraulic pump pressure and engine power requirements.

Other hydraulic system advantages include:
Mechanical-controlled valves
Hydraulic steering for effortless operation
Hydraulic wet-disc brakes that provide excellent brake performance
3-point hitch with increased lift capacity that can handle even the heaviest implements
High-capacity hydraulic pump

The hydraulic pump is located close to the hitch valve and selective control valves (SCVs), allowing:
Fewer and shorter lines
Quick system response times
Minimized energy losses
For 6155M-6195M, the 114-L/min (30.1-gpm) pump is base equipment.

Essential services have priority

The priority valve ensures, even at low idle engine speed, full power to the essential services like:
Steering
Brakes
Hydraulic-trailer brakes, if equipped
Hydraulic and transmission systems are functionally separate; however, both systems utilize a common reservoir for easy serviceability.

Oil take out capacity with/without additional tank

With PFC hydraulic system, an extra 12-L (3.7-gal.) oil reservoir is available to increase the oil withdrawal capacity of the hydraulic system. This permanently allows the optimum oil level of all drive components, with advantages for durability and efficiency.

NOTE: Not for 6M Open Operator Station (OOS) Tractors.
The CommandQuad PLUS gearbox is an option on all 6M Cab Tractors. The CommandQuad PLUS Eco maintains the impressive reliability of an AutoQuad™ transmission while enhancing operator convenience and productivity through increased automatic shifting capabilities.

The transmission is equipped with 20 forward and 20 reverse (20F/20R) speeds for the top three models (24F/24R for the 4 cylinder models), a left-hand reverser, and four PowerShift gears in five fully synchronized ranges (6 range transmission for the less powerful models). The selected powershift is displayed on the digital display (1 to 4).
A: Thumb wheel located on gear selector lever – sets maximum tractor speed
B: Park brake lever
C: Gear range selection – change on the go
D: Gear lever – right-hand side for automatic, left-hand side for manually shifting
E: Engine speed scroll lever

The CommandQuad PLUS Eco operates at speeds as slow as 2.5 km/h (1.56 mph) with rolling circumference index (RCI) group 47 rear tires. Max speed is limited to 40km/h (25mph).
The speed chart demonstrates excellent gear overlapping capabilities. Similar results would be seen throughout the 6M range.
Code
Description
Available for
Information
1500
CommandQuad PLUS - 24/24, 40 km/h (24.9 mph)
6110M, 6120M, 6130M, 6135M, 6145M
Includes electrical left-hand reverser
Requires Powerfill brakes (code 8765)
1501
CommandQuad PLUS - 20/20, 40 km/h (24.9 mph)
6155M, 6175M, 6195M
Includes electrical left-hand reverser
Requires Powerfill brakes (code 8765)
1502
CommandQuad PLUS Eco - 24/24, 40 km/h (24.9 mph)
6110M, 6120M, 6130M, 6135M, 6145M
40 km/h (24.9 mph) at reduced engine speed
Includes electrical left-hand reverser
Requires Powerfill brakes (code 8765)
1503
CommandQuad PLUS Eco - 20/20, 40 km/h (24.9 mph)
6155M, 6175M, 6195M
40 km/h (24.9 mph) at reduced engine speed
Includes electrical left-hand reverser

CommandQuad PLUS Eco

Control, operation, and fuel efficiency is optimised with this system. At maximum speed of 40km/h (24.9 mph), the eco system automatically reduces the engine speed to 1550 rpm (for the 6195M, with similar results throughout the range).
Running under partial load, this setting allows to adjust the minimum engine rpm
Automatic lowering of engine rpm, if possible, under partial load allows to reduce fuel consumption
For specific applications (either with PTO or without), engine speed droop can be shut off (eco off)
Benefits
Fully automatic gear shifting without the use of a clutch
Includes AutoClutch feature which increases ease of use
Reduced noise level
Less vibration
Increased operator comfort

Possible to store any two set start gears

Multi range function – see link at bottom of page for more info

Required less range shifting compared to other transmission options

Ranges perfectly fitted to agricultural applications
Operating the CommandQuad PLUS Eco transmission

Once the tractor is started, the operator selects a range by pressing one of the range buttons on the control center. The ranges are labeled as letters: A, B, C and B-E/ B-F. The operator has the choice to select MultiRange, which allows seamless gear shifts and automatic range shifts without the use of a clutch or declutch button.

The gear speed can be selected by using the transmission control lever to shift to a desired gear. After setting the desired throttle position, the operator can move the left-hand reverser to the forward or reverse position to start movement. The operator can shift up or down through the gears in the selected range(s) as needed.

Initial start gear can be programmed through the digital display controls. Any two start gears may be stored.
Soft shift
This electronic engine-transmission communication smoothes the four-speed power shift steps. During upshifting, a slightly lower engine rpm than the current one is commanded by the transmission for a few milliseconds to match the right speed.

For down shift, the rpm is raised quickly and lowered again after the shifting has been completed. Soft shift is an intelligent system varying the degree of engine rpm reduction and increase depending on tractor load. The soft shift system can be turned off if required, for example during baling.


Speed matching

Overview
The speed matching control unit selects the next appropriate power shift step after shifting a range up or down, depending on the current speed.
The operator can adjust in the dashboard if speed matching should be on, off, or off when PTO is engaged.
Speed matching is available at over 7 km/h (4.4 mph).
Benefits
Provides the operator with a seamless transition between range changes
Two operating modes: AUTO mode and manual mode
CommandQuad PLUS Eco features two different ways to operate transmission range and speed selections. In manual mode, the operator has the ability to shift through speeds and ranges without clutching by moving the control lever forward, toward the + indicator, or backward, toward the - indicator. In AUTO mode, the tractor shifts automatically at present shift points depending on engine load.
Full AUTO mode

Depending on load, full AUTO mode will optimize both the engine and transmission by selecting the appropriate gear and rpm to optimize fuel efficiency. The only input needed from the operator is to set the target ground speed by using the thumbwheel.
Load anticipation feature

A load anticipation feature is standard equipment on all tractors equipped with a CommandQuad PLUS Eco transmission. The load anticipation feature allows the CommandQuad PLUS Eco transmission to predict how much load the engine expects from the activation of the hitch or a particular selective control valve (SCV) function.
Full auto mode — load anticipation always engaged
Custom mode — operator can engage or disengage load anticipation (hitch, PTO, or SCVs)
Load anticipation is activated when:
An SCV is commanded to flow more than 25 percent, or when it is in continuous flow, the tractor will boost the fuel economy engine speed.
If the hitch is lowered (at a rate greater than 6 percent) or raised, the system will increase engine rpm if the engine speed is below 1500 rpm.
NOTE: The load anticipation feature also activates when using SCV or hitch functions programmed within iTEC™ application sequences.

NOTE: Refer to the operator's manual for complete instructions.
The option to adjust the sensitivity provides the operator with higher comfort and choice to optimize the tractor depending on what application it is doing. For example, high sensitivity for low speed yard work and low sensitivity or OFF for transport of heavy loads in hilly conditions.
Allowing higher operator performance and uptime in the field, removing the need to depress the clutch – more time to concentrate on other important aspects of the tasks.
For more information and transmission features, please view the Managing engine and transmission for maximum efficiency page.
Autoclutch feature - effortless operation
The clutch automatically separates when the brakes are actuated and engages when the brakes are released. However, AutoClutch is deactivated if single-wheel braking is used while engine speed is higher than approx. 900 rpm. This means: if single-wheel braking is used to make a turn (for example), the clutch is not activated while engine speed is higher than 900 rpm.

Changing the sensitivity setting of the AutoClutch alters the way in which the clutch separates automatically. This changes the time-lag between initiation of braking and the point in time when the clutch separates. If set correctly, this has a positive effect on braking characteristics when driving with a trailer. The lower the sensitivity, the greater the actuation of the trailer brake so that the hitched-up unit remains stretched. This also implies that more force is required to actuate the foot brake.

AutoClutch sensitivity may be adjusted between four different settings – Low, Medium, High and Off.
Overview
The strong steel frame has been a John Deere industry exclusive since 1992, providing profound advantages over competitor solutions.
Below is a table demonstrating the available wheelbase measurements for all 6M models (mm/in.).
Cab and OOS models

Models

6110M – 6130M

6145M – 6155M

6175M – 6195M

Wheelbase, mm

2580

2765

2800

Wheelbase, in.

101.6

108.9

110.3
Benefits
This unique solution achieves higher payloads without increasing tractor weight, thus increasing productivity.
The engine is separated from the full-frame design using rubber bushings. This method reduces the noise and vibration from the engine, ultimately improving tractor uptime and operator comfort.
Full frame carries the load while the powertrain transmits engine power to the final drive. This reduces stress on mechanical components thus improving uptime and reducing costs of operation.
Higher power density is delivered by separating the load carrying components from the power transmitting components, allowing optimized designs and operator performance.
Loader brackets mounted directly to the full frame, therefore loader forces are not transmitted to the engine or transmission.
Improved serviceability
Frame mounting allows easier component accessibility without disturbing other systems.
Complete modular component replacement, such as transmission and engine is achieved without splitting the tractor in half.
Overview
The newly introduced mechanical cab suspension (MCS) offers even higher levels of comfort to operators. For operators wanting superior operator comfort and smoother driving, mechanical cab suspension is available for all 6M Series Cab Tractors. The mechanical cab suspension reduces operator fatigue and discomfort, especially for applications requiring long hours inside the cab. The system also provides stability to monitors in the cab during use.
The cab rests on two fully integrated shock absorbers which dampens the vibrations coming through the frame. The suspension range is set to +/- 50 mm.
Benefits
Superior operator comfort, especially at higher transport speed
Higher operator efficiency
In addition to having a smoother ride, the cab is more isolated against noise and vibrations from the engine, transmission, and chassis compared to the base equipment cab.
Offer increased effectiveness of operation for long hours on a wide range of demanding tasks
Details
Available on all cab models only
| | |
| --- | --- |
| Code | Description |
| 8261 | Mechanical cab suspension |
Overview
John Deere 6R Series Tractors feature the reliable and proven PowerTech PVS 6.8L and PSS 4.5L engines. These air-to-air aspirated engines deliver a power bulge above rated power to provide excellent torque in demanding applications.

Key features:
Series turbochargers (PSS only)
Variable geometry turbocharger (VGT)
Air-to-air after cooling
High-pressure common rail (HPCR) fuel system
Engine control unit (ECU)
PowerTech PSS/PVS engine identification
After treatment

S – Exhaust filter and selective catalytic reduction (SCR)
X – Exhaust filter

Turbocharger

V – VGT
S – Series turbochargers
W – Wastegate turbocharger

Technology

P – PowerTech Plus
E – PowerTech E
Benefits
A constant power range of 2100 rpm down to 1500 rpm
Power bulge of 10 percent
Greater tractor productivity
Responsive power reducing the need to downshift the transmission
Details

To match the engine power characteristics and improve the operation economy of the machine, the rated engine speed is 2100 rpm.

Series turbochargers

Overview

The PowerTech PSS 4.5L uses a wastegate and a fixed geometry turbocharger, providing the torque rise and engine response needed to meet varying load conditions.
Fresh air is first drawn into the low-pressure fixed geometry turbocharger and compressed to a higher pressure. The compressed, higher pressure air is then drawn into the high-pressure VGT, where the air is further compressed. By splitting the work between two turbochargers, both can operate at peak efficiency and at slower rotating speeds.
Benefits
Delivers high-power density
More low-speed torque and responsiveness to meet varying load conditions
VGT

Overview

The VGT is electronically controlled and actuates the turbo vanes as required to maintain peak engine performance. PowerTech PVS 6.8L engines only have a VGT turbocharger.

The turbocharger's vanes are in the exhaust flow. The opening or closing of the vanes changes the outlet volume and airflow speed against the turbocharger turbine. When exhaust flow is low, the vanes are partially closed. This partial closure increases the pressure against the turbine blades to make the turbocharger spin faster and generate more boost pressure.

The ability to keep the airflow at optimum levels provides more consistent engine boost pressure and the ability to respond to load quickly across the entire engine rpm range. This system is without the turbo lag that can be found on some engines.
Benefits
Increased low rpm torque
Quicker response to load
Increased peak torque
Improved fluid economy
Improved performance at high altitudes
Air-to-air after cooling

Overview

Air-to-air after cooling lowers the intake manifold air temperature and provides more efficient cooling while reducing cylinder firing pressure and temperatures for greater engine reliability. Since lower temperature air is denser, a higher volume of air flows into cylinders so the engine is capable of meeting the increasing horsepower demands. Lowering the intake manifold and cylinder temperatures also aid in lowering the combustion temperature, which lowers the NOx produced as a result.
Benefits
Higher horsepower
Less NOx production
HPCR fuel injection system

Overview

Every PowerTech PSS 4.5L engine utilizes a HPCR fuel system to efficiently supply fuel to injectors. The high-pressure fuel pump instantly responds to requirements for more or less fuel flow or pressure. This electronically controlled, high-pressure pump delivers pressure on demand according to the application requirements. Pressure on demand ensures an efficient injection system resulting in high-injection pressure independent of engine speed.
Benefits
Instantly respond to load changes reducing the need to change gears
Improved fluid economy
Engine control unit (ECU)

Overview

The ECU uses signal inputs from sensors and pre-programmed performance modeling to control critical engine functions such as fuel quantity, injection timing, air-to-fuel ratio, multiple fuel injections, amount of cooled exhaust gas recirculation (EGR), and a host of other control parameters.
Benefits
Optimized fluid economy
Maximum engine performance
Details

Each injector is controlled individually by the ECU. The ECU turns the injector on and off during each firing cycle to control the fuel delivery into each cylinder.
Load and speed sensing allows each cylinder's fuel delivery rate to be adjusted independently at the individual injector. With each injection cycle, the ECU can make the following adjustments on the go:
Number of injections
Fuel pressure in the common rail
Start of injection
Duration of injection
This management system is connected to the transmission, allowing the engine and transmission to respond simultaneously.
Cold weather and high-altitude compensation are also precisely controlled for quality starts regardless of weather and maximum performance at high elevations. The ECU also features improved diagnostic capabilities. It is faster, has more working memory, and is responsible for monitoring and executing all aspects of the integrated emission control system.
Specifications
John Deere 6155M Tractor
Rated power (97/68EC)
114 kW
155 hp
Max power (97/68EC)
120 kW
164 hp
Maximum hydraulic flow
114 l/min
Maximum lift capacity rear
7,200, optional increase to 8,100 kg



Accessories and Attachments
CONTACT US
ADDRESS
Jacksonville Office,
36428 US HWY 69N Jacksonville Texas 75766
ADDRESS
Tyler Office,
17469 US 69, Tyler, Texas 75703
PHONE
Tyler Office:
903-600-4800
Jacksonville Office:
903-586-8999
FAX
903-541-2209
After Hours
903-600-4800
EMAIL
Info@connectrow.com
Business Hours
Mon-Fri / 8am - 5pm